Guided Mountain Lion Hunts in Alberta, Canada
Alberta dominates the record books when it comes to Cougars and there is no better place to go if a giant Tom is on your wish list. The current cougar population is estimated to be between 2,500 and 3,000 animals, and the province only allows 26 non-resident hunters per year ensuring high quality hunting.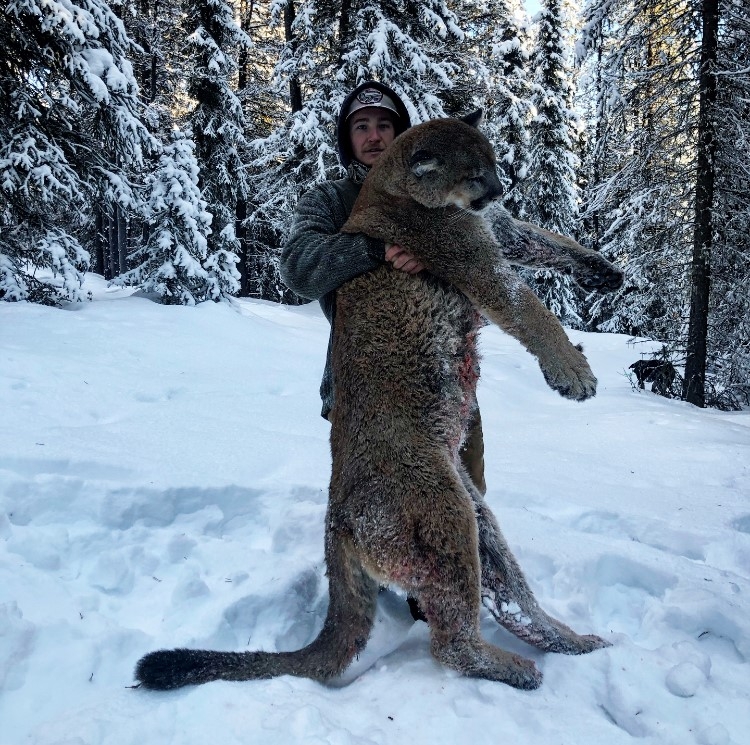 Alberta Cougar Hunts
Our cougar hunts take place starting in January and run through to the end of March. We only take 4 cougar hunts per year, 2 per cougar management area (CMA) and we have the exclusive hunting rights to these areas for non-resident hunters. Our hunting area is in the southwestern part of Alberta along the Montana and British Columbia borders. The cats in this area feed primarily on deer, Rocky Mountain Elk, and Bighorn Sheep. Since we have such a healthy prey animal population, we have a healthy cougar population.
All of our hunts are done with hounds, and we have two different guides that are both world-class houndsmen and each one runs the hunts in their specific CMA. These guides love hunting cats and will do everything in their power to find you the trophy you're looking for. You and your guide will get up first thing every morning and search the area for fresh lion tracks. This may be done in a pickup truck or on a snowmobile depending on the location and the weather conditions. If you are able to locate a trophy-sized track, the hounds will be released and the hunt will be on!
Please note that these hunts are more physically demanding than most guys expect, so please come ready to hike!
Since the shooting distance will be short-range, we prefer you to use one of our guns so that you can avoid the hassles of traveling across the border with a firearm.
Please also note that these hunts are very weather dependant and we will reschedule your hunt dates if it appears the weather will not be optimal during your scheduled time. There is no extra cost for this as it is part of our service to ensure you get the trophy cat your looking for.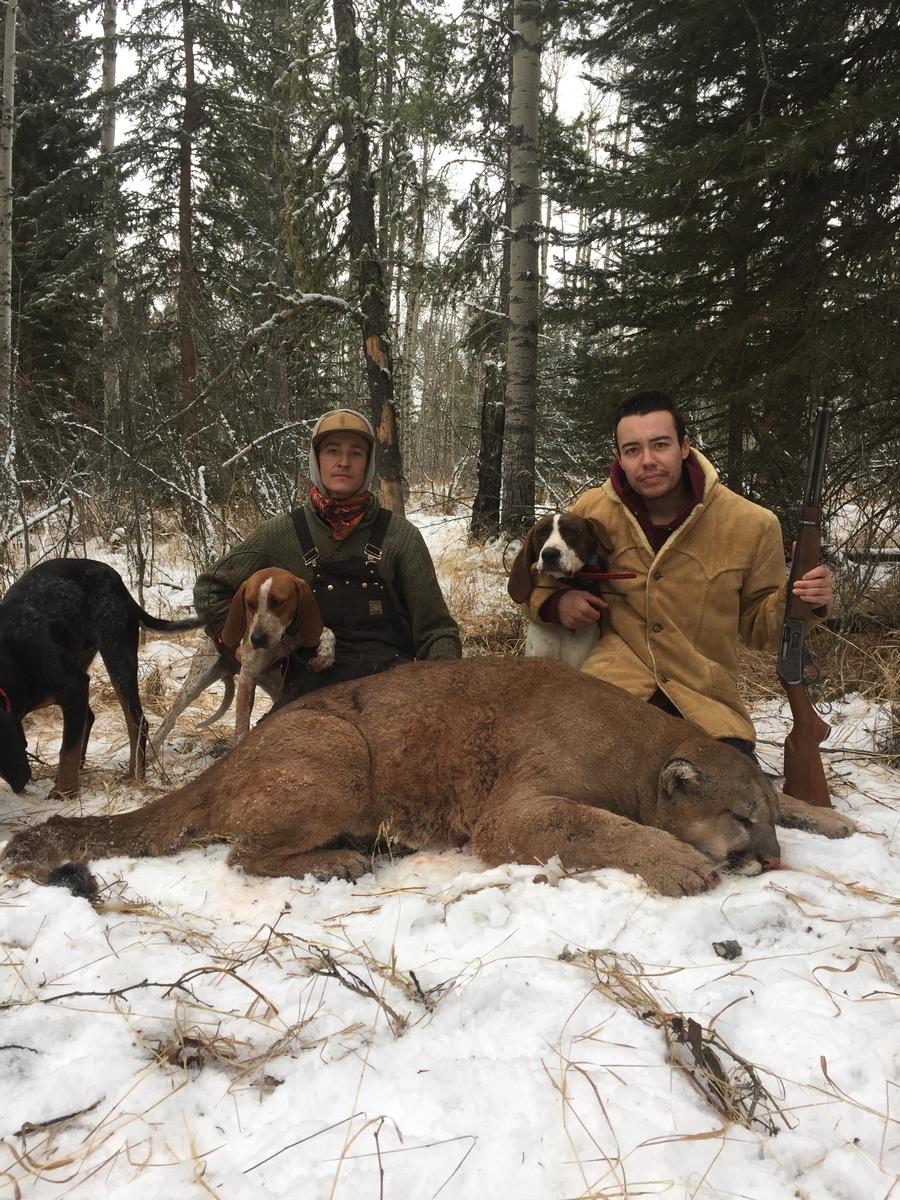 Season Dates & Logistics for Your Mountain Lion Hunt
Hunters are responsible for travel arrangements to our hunting camp. You can either fly into Lethbridge, Alberta where we will arrange to have you picked up, or you can fly into Great Falls, Montana, and then rent a car and drive from there.
Hunt Schedule
We give our hunters a choice of a 7-day hunt or a 10-day hunt.
Hunters will need to arrange flying in the day before your hunt starts and flying out the day after it ends.
2023 Cougar Hunt Dates
Any time between Jan 1st and March 31st. However, we encourage everyone to book earlier in the season so that in the event that we must reschedule your hunt dates, we will have plenty of alternative options.