Guided Whitetail & Mule Deer Hunts in Alberta
Alberta has a unique situation that allows a hunter to hold tags for both Whitetail and Mule deer simultaneously. Many areas in Alberta have both species present, however, there are few areas that produce trophy-sized bucks of each species on a regular basis. Our hunts take place in some of those areas!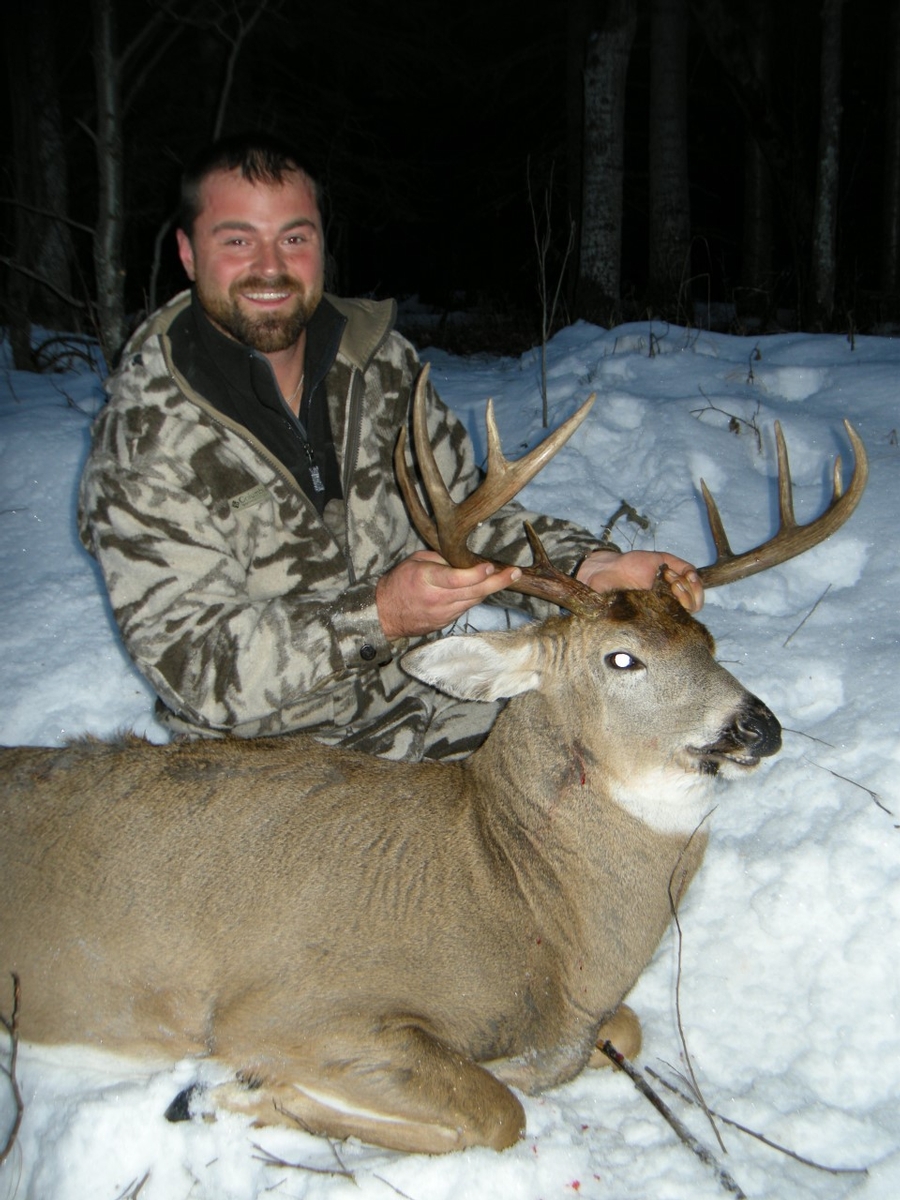 Alberta Deer Hunts
We do our deer hunts starting November 9th, either as a single species hunt or as a combination hunt. We take four mule deer and two whitetail deer per season and normally we sell 2 mule deer/whitetail combo hunts and then two mule deer hunts which can be combined with a moose. Our goal is to harvest only mature bucks of each species, therefore most of the mule deer we shoot will be 175" or better and the whitetails will be 140" or better.
These hunts take place during prime time for the deer rut in northern Alberta. The whitetail bucks normally start rutting before the muley bucks but both species will be in either pre-rut, rut, or post-rut behavior during the last part of November. This is the best opportunity to harvest a mature buck that normally would never be seen in daylight hours.
Our area is mostly farmland interspersed with small woodlots as well as a few big river bottoms - perfect habitat for big bucks!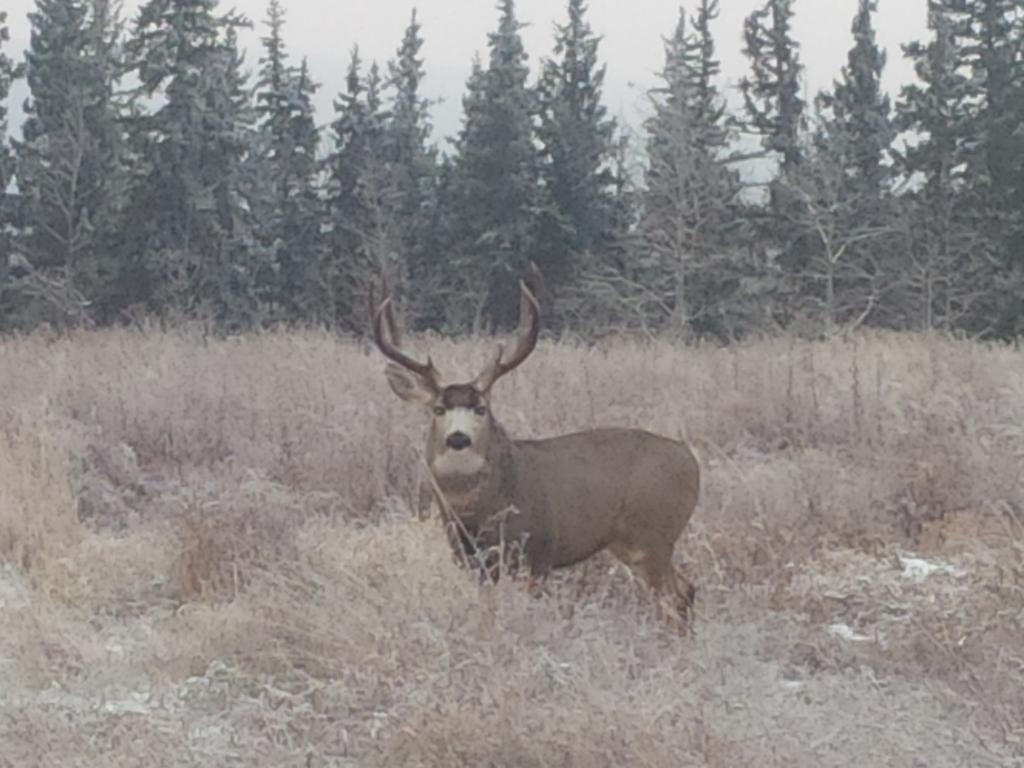 What to Expect on Your Alberta Deer Hunt
Our hunts are 1x1 guided and you will be spot and stalk hunting for mule deer and doing a mixture of stalking and some stand hunting for whitetails. Hunters will travel with their guide daily from the camp to the different parts of our area looking for trophy deer. Once you are successful in harvesting your deer, your guide will field dress it and get the cape and horns ready for the taxidermist. One of our guides is a trained butcher who will cut and wrap your meat for you if you choose, or you can cut it yourself or take it home quartered.
Hunters should be prepared for shots up to 400 yards and we prefer our deer hunters to shoot a gun of .270 caliber or larger.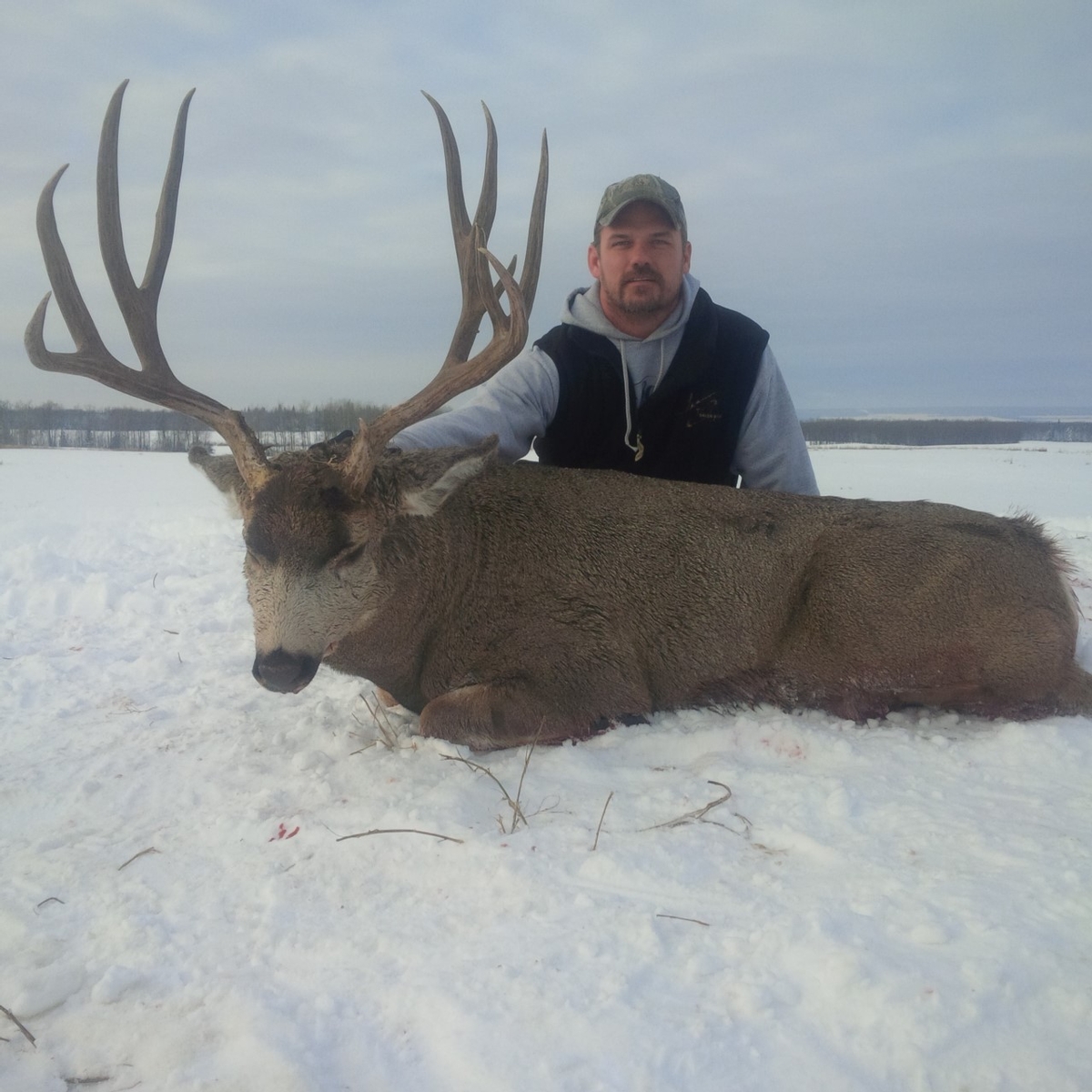 Hunt Schedule & Traveling to Alberta
Hunters are responsible for travel arrangements to our hunting camp, and there are two options:
Flying: Hunters can either fly into Edmonton or Grande Prairie and then rent a car and drive to camp. Edmonton is a 5-hour drive GP is a 2.5 hr drive.
Driving: We have lots of hunters who prefer to drive up for their hunt. This allows you to bring more equipment with you as well as take all your meat and trophies home at an affordable cost.
Driving times to camp:
Chicago - 31 hours
Minneapolis - 24 hours
Denver - 24 hours
San Francisco - 29 hours
Hunt Schedule
All our hunts are 12 days in length with 10 full days of hunting.
The dates listed below are actual hunt dates for which you will need to arrange to arrive in camp on the first day of your hunt.
2022 Hunt Dates
Nov 9 – 20
Nov 20th – Dec 1st